February 24th, 2014
What is Calculords? It's a totally unique combination of aliens, cards, numbers, and pixels. Take a look: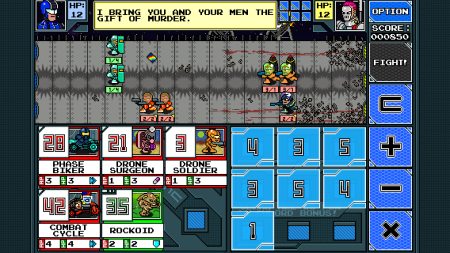 It's available for iOS on the app store RIGHT NOW. The fastest way to find out what it's about is just to download it. So go!
A quick note on math: the math is just addition, subtraction, and multiplication. And you can undo as much as you like. So if it helps to think of it as number puzzles, go ahead! You'll soon find yourself discovering fun tricks to make the numbers work in your favor.
Sean Reiley, Nick Heyman, and I started Calculords many years ago. Progress stalled out after I had to take on a full-time job, and I'd basically given up on the game… until Rich Joslin picked up the pieces. He and Sean worked like crazy to whip the game into shape and put it out on Apple's App Store.
I'm super happy to see the game finally come out, and I've been pleasantly surprised to see how far it's come since I stopped programming on it. Sean's design is totally unique, his pixel art is deliciously, hard core retro, and Rich has put it all together in a really smoothly-running package.
I don't play a lot of mobile games, because I prefer a meatier experience. If you feel the same, don't let that turn you off of Calculords. Calculords lets you dive in as deeply as you like.