As rumored, Nintendo announced a new DS today.  It's like the old DS, but they've replaced the GBA port with an SD port.  (Step 1: shut down Lik-Sang and flashable cartridges.  Step 2: switch to a writeable media.)
More exciting, they've added a 0.3 megapixel camera!  I had my industry sources send me an early DSi, and I took a picture of my house with it: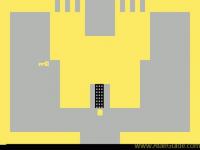 No stealing my hideaway key!